Camp Maas Family Guide
We are honored that you have chosen Camp Maas as your summer home and we are so excited to be together!
We understand that preparing for camp is a lot! We want to try to help you in any way that we can. This Family Guide is a comprehensive resource before and during the summer months. Whether you begin 2023 as a new family or return as a "seasoned pro," the details below provide helpful information about important dates, special programs, and critical policies. Please review all this material to successfully prepare for the exciting adventures ahead. As always, our number one priority remains the health, safety, and well-being of our entire camp community.
Together, with nurturing staff, energizing programs, and transformational experiences, we look forward to a healthy, safe, and positive summer at "The Greatest Place On Earth!"
We can't wait to see you at camp,
Carly Weinstock, Camp Director
Brighton Side 
Applebaum - Entering 2

nd

and 3

rd

grade boys

 

Shiffman - Entering 2

nd

and 3

rd

grade girls

 

DeRoy - Entering 4

th

and 5

th

grade boys

 

Fishman - Entering 4

th

and 5th grade girls

 
Mid-Side 
Levison - Entering 6

th

grade boys

 

Charach Sheruth – Entering 6

th

grade girls

 

Hermelin - Entering 7

th

grade boys

 

Berman - Entering 7

th

grade girls
Senior Side 
Grosberg Ruach – Entering 8

th

grade boys and girls

 

Robinson Pioneer - Entering 8

th

grade boys and girls

 

Kaufman Specialty - Entering 9

th

grade boys and girls

 
Programs are available for older campers through our Teen Programs. The 2023 Teen Programs Family Guide is coming soon!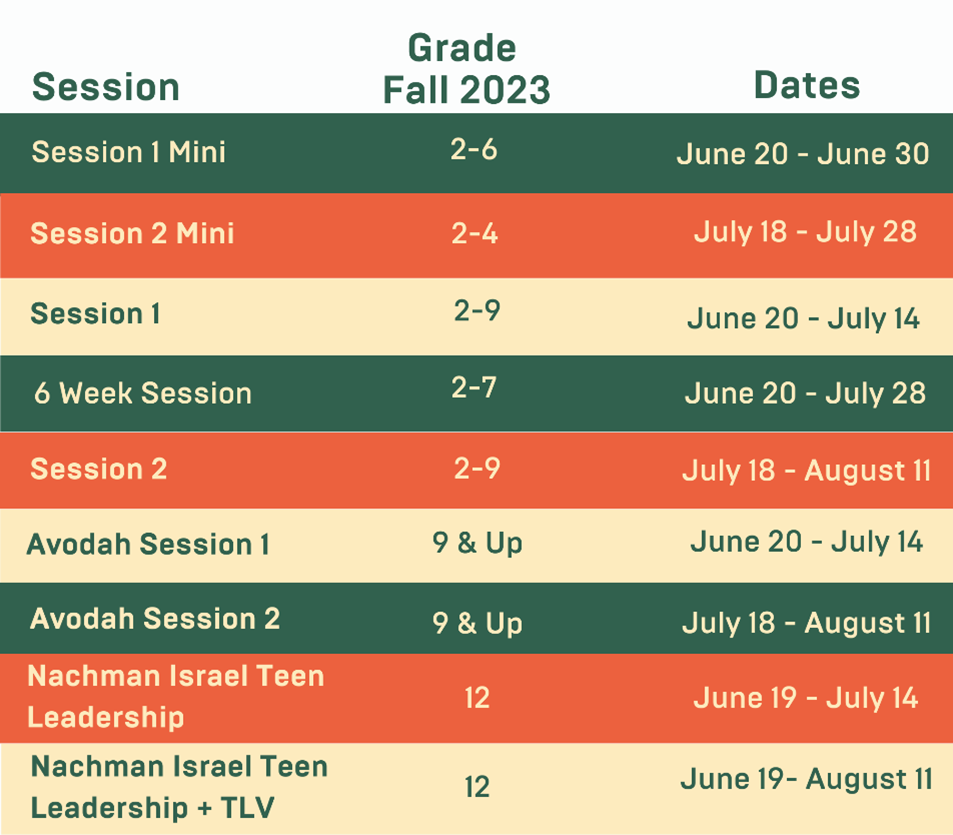 LUGGAGE
Each camper is permitted to bring a total of three bags: two duffels and one carry-on backpack. Please use the luggage tags, which will be mailed prior to camp, to label your child's bags.
We recommend duffle bags with a zipper across the middle, measuring approx. 36" x 18" x 16".  
Brody's Jumbo Waterproof Duffel 
Perfect Trading Medium Camp Duffel 
For the drive to camp, we recommend one backpack to bring last-minute additions and nighttime comfort items.
CLOTHING 
Label, label, label! Simple and practical clothing is most suitable for camp. Avoid packing expensive clothing; it is unnecessary. Expect that some articles may not return.
VILLAGE TEES 
We strongly recommend that you purchase a village T-shirt for your child. These T-shirts are used for special events and village pictures throughout the summer. Village tees can be bought at Brody's or Perfect Trading Company.
SHABBAT ATTIRE
Shabbat is a special time at camp and we help establish the tone through the clothing we wear. On Friday nights, all campers and staff members are expected to dress respectfully (wearing blue and white). Shabbat tees are optional and are also available at Brody's and Perfect Trading Company. On Saturday, regular camp attire is sufficient.
MONEY
Campers do not need spending money while at main camp. However, campers in Grosberg Ruach, Robinson Pioneer, Kaufman Specialty, and Avodah may want money for their trip "pop-stops." We suggest a range of $10 - $40 in cash. Please place your camper's money in a sealed envelope with your child's name, village, and exact dollar amount. At camp arrival, please bring the envelope to our staff. The envelope will be stored in camp's safe until your child's trip departs. Additionally, 6-week campers and Super Session campers who stay during break should bring money for "pop-stops".
ELECTRONIC DEVICES
Generally, campers are not allowed to have devices at camp. They may bring an MP3 player that does not connect to the internet, to be able to listen to music/audiobooks during menucha (rest time) or bedtime. Any other devices must be approved by our staff in advance.
CELL PHONES
Cell phones are not permitted at camp, under any circumstances, and represent a distraction to camp's community. If a camper is found with a phone, it will be confiscated and considered sufficient grounds for dismissal. In that event, a refund is unavailable. Additionally, campers are not allowed to use staff cell phones.
DANGEROUS ITEMS 
Guns, knives, and any other potentially dangerous items are not permitted at camp. If you are unclear about any items, please ask for guidance from a member of the Programs Team. If a camper is found with a dangerous item, it will be confiscated and considered sufficient grounds for dismissal. In that event, a refund is unavailable. 
In advance of camp's first day, campers and parents drop off luggage and receive lice checks. All campers must have their heads checked for lice before arriving at camp. Luggage tags will be mailed to households in May.
LUGGAGE DROP-OFF AND LICE CHECKS – Adat Shalom (29901 Middlebelt Rd, Farmington Hills, MI 48334)  
Please arrive with your camper anytime within your scheduled time.
Session 1 Mini, Session 1, and 6-Week Campers 
Sunday, June 18 
11 am - 12 pm last names beginning with A-M
12 pm - 1 pm last names beginning with N-Z
Session 2 Mini and Session 2 Campers
Sunday, July 16 
5 pm - 6 pm last names beginning with A-M
6 pm - 7 pm last names beginning with N-Z
OUT-OF-AREA CAMPERS  
If you live outside of the Detroit area, you may bring your luggage with your camper(s) to camp on the first day. Alternatively, you can ship luggage directly to camp. In that case, please make sure it will arrive after June 12.  The camp address is 4361 Perryville Rd, Ortonville, MI 48462.  
Parents/guardians will drive campers to camp on opening day. Please see the scheduled drop-off times by village below. Families with campers in multiple villages may drop all campers off at the earliest drop-off time available for your family. Here is what to expect: 
Prior to arrival, you will be mailed a village sign to put in your front window when entering camp. This will help our staff to direct you where to go.

Cars will enter camp at their scheduled time and entrance (please note which entrance your camper should be arriving at). Please continue driving until you are directed to stop.
Start your goodbye inside the vehicles. Don't forget a picture!
Your child will be greeted by a staff member, who will walk with them to meet their village.
Parents should stay by or in their cars.
Once your camper is with the staff member, please exit camp as directed.

 
The Camp Director, Heads of Sides, and social workers will be there greeting all campers.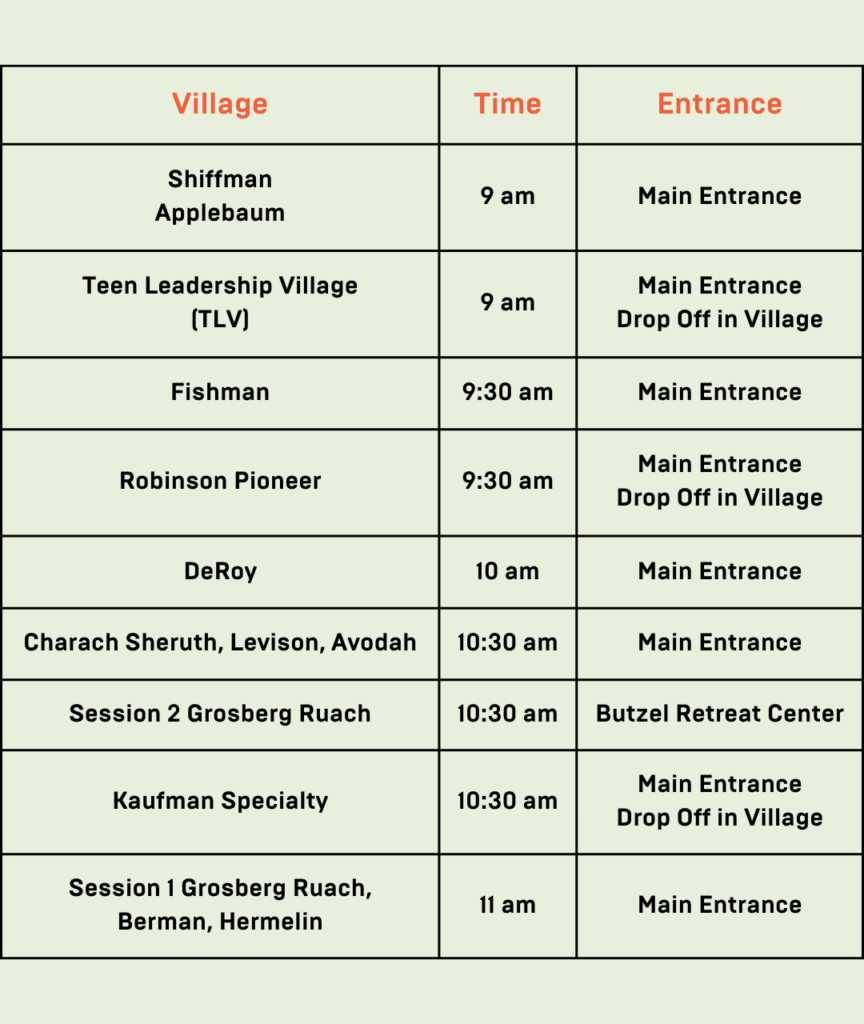 FIRST DAY AT CAMP 
We recognize that the first day of camp is filled with emotions – both excitement and anxiety for campers and their parents.
After drop-off, campers can expect to meet their bunkmates, counselors, and supervisor; get settled in their bunk; visit the clinic for orientation; and take a swim test. Lunch is always a camper favorite – chicken nuggets and fries (other options are available as well)! 
On the last day of camp, campers return by bus to Adat Shalom (29901 Middlebelt Rd, Farmington Hills, MI 48334). Unless prior arrangements have been coordinated, campers may not be picked up at camp. Please see the scheduled arrival times by village below.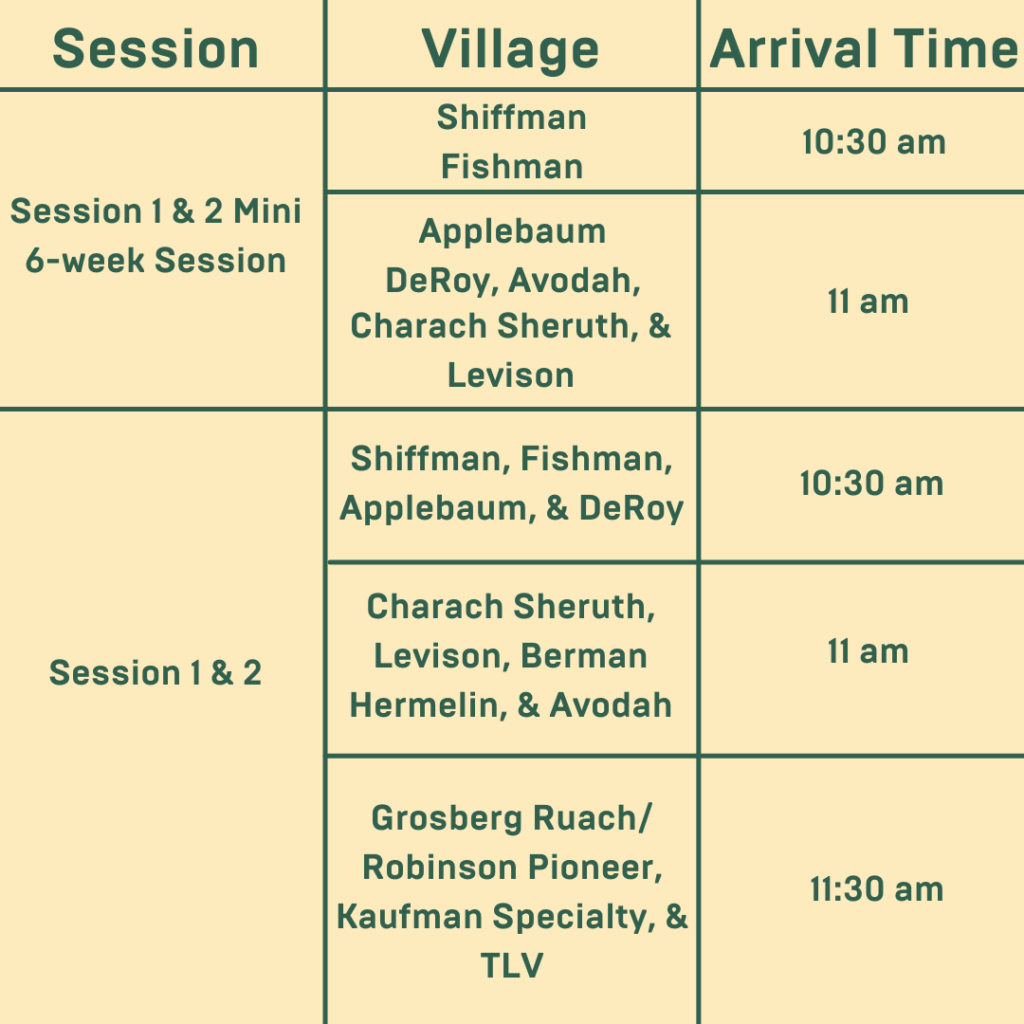 PACKAGES
Packages are not allowed, with very few exceptions. If your camper forgot an essential item such as swim goggles or sneakers, please contact Rachel Pitt at rpitt@tamarackcamps.com for approval. Packages will be checked before delivery to the camper. 
WAYS TO CONNECT WITH YOUR CAMPER 
Email:

A link to access camper emails will be on the website by the first day of camp.

 

Please send by 8 am to ensure same-day delivery.
Campers cannot email back.

 

Mail:

When sending letters, please use the following address:

Camper name, Village name, 4361 Perryville Rd, Ortonville MI 48462

Please do not send gum, candy, etc. We check everything.
Campers will write letters home. Please help your camper by pre-addressing and stamping envelopes for them!  

 

SmugMug Photos:

A link and password will be communicated prior to the start of camp

 

Calls to camp

 

When you call camp during the summer, our office staff will take a message for a social worker or Head of Side to return your call. Usually within 24 hours.

Campers cannot call home.

 
NEWSLETTERS 
Daily newsletters will be sent from various members of the summer staff. These emails are sent from tamarack@tamarackcamps.com and often get sorted into spam or junk folders. Please add this email address as a "safe sender" in your contacts to ensure you receive our communications.  
CONTACT US
Before June 12 and after August 12, please contact the City Office at  
(248) 647-1100
6735 Telegraph Road, Suite 380
Bloomfield Hills MI 48301  
From June 12 to August 11, staff will be at the Camp Office at  
(248) 627-2821
4361 Perryville Road
Ortonville MI 48462 
DAILY SCHEDULE 
Boker Tov! (Good morning!)

 

Degel (Flag Pole)

 

Breakfast

 

Clean-up

 

Bunk Activity 1

 

Bunk Activity 2

 

Lunch

 

Menucha (Rest Time)

 

Prime Time**/General Swim

 

Prime Time**/General Swim

 

Shower Time

 

Degel (Flag Pole)

 

Dinner

 

Evening Activity/Schooze (Free Time)

 

Lilah Tov! (Good Night!)
The above schedule may vary, depending on special programs and trips. 
**Prime Time: Campers choose an activity that they will participate in for 2-3 consecutive days. (Please note: in order to maximize all activities, mini-session campers do not participate in Prime Time) 
SHABBAT
Friday's schedule differs, as we allow additional time for Shabbat preparations. 
We observe Shabbat by sleeping in, enjoying breakfast in the village, participating in engaging and informal services, more relaxed programming, and a meaningful Havdalah ceremony. 
PROGRAM AREAS 
Arts and Crafts (Omanut)

Ceramics
Farming

Teva (Nature)

Jewish Programming

Tripping

Horseback Riding (HBR)

Land Sports

Multimedia

Music

Photography

Theatre

Ropes (Climbing Wall, Tango Tower, High Ropes, and Zip Line)

Swimming (at the Pool and in the Lake)

Water Sports (Waterskiing, Tubing, Kayaking, Canoeing, and Paddleboarding)

 
CAMPING TRIPS
If your camper is nervous about a camping trip, consider taking them "car camping" overnight before the summer. Trips are a part of the camp experience. If a camper is unwilling to participate in their trip, Camp reserves the right to send the camper home without returning, and a refund will be unavailable. 
We have dedicated "tripping" staff that are experts on all things camping – setting up tents, building a campfire, etc. They will be on the camping trip, along with the village counselors. 
The camp trip locations and lengths for each village are listed below:
Applebaum and Shiffman campers do not go on a camping trip. They will get to make s'mores around a campfire.

DeRoy and Fishman – 2-day, 1-night hiking and canoeing trip along the Huron River.
Charach Sheruth and Levison – 3-day, 2-night hiking and canoeing trip in Mio, MI.
Berman and Hermelin – 4-day, 3-night hiking and canoeing trip in Mesick, MI.
Grosberg Ruach – 5-day, 4-night hiking trip to North Manitou Island.
Robinson Pioneer – 6-day, 5-night hiking and canoeing trip to Lake Superior Provincial Park, and a 3-day, 2-night ziplining trip in Hocking Hills, OH.
Kaufman Specialty – 5-day, 4-night hiking trip in the Upper Peninsula.
Avodah – 2-day, 1-night hiking and canoeing trip in Holly, MI.

 
Trip destination and itinerary may change as needed. 
Campers in Grosberg Ruach, Robinson Pioneer, Kaufman Specialty, and Avodah may wish to bring $10 - $40 for "pop stops" on their camping trip. Please send the money in a labeled ziplock bag.
FOOD
The Mahler Dining Hall provides a comfortable atmosphere where campers eat at tables with their bunk. Senior Side campers eat breakfast in their village lodge.
All food at camp is Kosher, certified by the Vaad.
Our kitchen staff is trained and well-equipped to manage dietary restrictions, food allergies and sensitivities, and picky eaters. Meals are designed to be nutritious and kid-friendly, and will always have a vegetarian option and a gluten-free option. In addition, there is a fresh salad bar available at lunch and dinner.
BIRTHDAYS
If your child(ren)'s birthday is during camp, our custom is to celebrate throughout the day. The counselors will highlight their birthday with special programs. Feel free to send birthday cards, but packages are not allowed.
LAUNDRY
Tamarack uses an outside laundry service that is provided to campers for no additional cost. Laundry is offered once per session and over session break for super session campers. If your child needs emergency laundry, our staff is happy to help out and will wash a quick load for them.
For a fee, laundry service may be offered at camper pick-up at Adat Shalom at the end of the session.
SECURITY 
We take security very seriously at camp. We have 24-hour security and all entrances to the camp's property are gated.  
The two lakes on our property are both private and not accessible by visitors. All staff members undergo a background check prior to their summer employment. Guests (such as laundry service, vendors, etc.) are escorted through camp by a member of our 24/7 security team. 
Session Break and Super Session
SUPER SESSION CAMPERS
Super Session campers may either stay at camp during the session break or go home for those days. Campers who will stay at camp during break should be pre-registered for it. Activities and meals during session break are paid for, but the campers will have opportunities to buy snacks on the field trips. Please plan on sending $20-30 for snacks.
NIGHT AT HOME
Super Session campers can spend one day/night at home from Monday, July 17 to Tuesday, July 18. If you choose this option, please coordinate pick-up and drop-off with Rachel Pitt at rpitt@tamarackcamps.com.
LAUNDRY AND LUGGAGE 
During session break, Super Session campers may leave their laundry at camp to be laundered at no cost or you may bring it home to launder themselves. In that case, the luggage should be dropped off at the Session 2 luggage drop-off on July 16.
6-WEEK CAMPERS 
All 6-week campers stay at camp over session break. Activities and meals during the session break are paid for, but the campers will have opportunities to buy snacks on the field trips. Please plan on sending $20-30 for snacks. 
INCLUSION
Tamarack Camps is committed to a culture of inclusion and welcomes everyone, regardless of their sex, sexual orientation, or gender identity. Every member of the Tamarack Camps community has a right to be addressed by a name and pronoun that corresponds to their stated gender identity. Campers will be housed with the gender that most closely aligns with their gender identification. Discrimination, bullying, and harassment on the basis of sex, sexual orientation, gender identity, gender expression, or family composition is prohibited.
SOCIAL WORKERS
We take mental health seriously at camp. Each side of camp has its own dedicated social worker who is there to support your children. Staff members have their own social worker as well. Please feel free to share concerns about your child(ren) prior to the start of camp.
COMMUNICATE CANDIDLY  
Talk candidly with the camp staff, specifically the Camper Care Team, which is led by Carly Weinstock, Camp Director. These connections allow our team an opportunity to apply expertise in helping your child(ren) adapt to the routines of camp life. Through sound communication, so many challenges can be resolved.
PACK COMFORT ITEMS
Talk to your campers about items that might help ease the transition (such as pictures, a calendar, battery-operated night lights, downtime activities, etc.), which are all intended to provide familiarity as signs of home.
DISCUSS CONCERNS BEFORE CAMP
As the first day of camp approaches, some children experience anxiety — leaving home, new surroundings, and uncertain schedules — just to name a few. Please encourage your child to discuss these emotions, rather than responding to your perception of his or her feelings. Empower your child to handle the separation confidently. Please refrain from this comment: "If you don't like it, I'll come and get you." This communicates unrealistic expectations for your camper.
HELP YOUR CHILD COPE AT CAMP
Most children need a few days to adjust to life at camp. During this time, homesickness—even for returning campers—is quite natural. Most campers cope with these concerns and, with the ongoing guidance and sensitivity of our staff members, build support systems. We communicate positively and work diligently to help campers feel comfortable.
QUESTIONS DURING CAMP 
If, after reading a letter, you feel concerned about your child(ren), or, alternatively, if you haven't gotten a letter in a while, please feel free to contact us directly. A message will be taken by our supportive office staff and a member of the Camper Care Team, with great camp knowledge, will be available to answer questions, respond to calls, field questions, research answers (where necessary) and, after a reasonable time, provide updates to our families.
Our Camper Care Team rotates between the office and throughout camp, strategically allowing our counselors and supervisors to remain "in the field" with your campers.
PARENTS
We take our job as an "in loco parentis" (in place of a parent) seriously. Therefore, along with preparing your child emotionally for the challenges of camp, please prepare your child(ren) for the realities of being away from home. 
Please review our code of conduct (found below) with your child so they are totally aware of our expectations.   
ONLINE FORMS 
Tamarack Camps collects and manages all health information through CampBrain. To submit your camper's health information, you will receive an email invitation from us. Please use the same username and password as used when you registered for camp.
IMMUNIZATIONS 
The Tamarack Camps immunization policy requires everyone to be immunized according to the recommendations of the Centers for Disease Control, the State of Michigan, and the American Academy of Pediatrics. The full policy can be viewed here. 
COVID POLICY
Following an intensive review process and with the full support of our medical committee, we strongly recommend that all campers enrolled in any Tamarack Camps program be up to date with COVID-19 vaccinations.
We know it is critical to keep you updated on COVID-19 policy and procedures. We want you to understand and feel confident in the steps we are taking to minimize risk. We will communicate protocols closer to camp, to ensure we are making decisions based on current conditions.
LICE
At lice check, if your child(ren)'s exam reveals live lice and/or nits (eggs), he/she will be sent home along with their belongings and guidelines for treatment. Parents will be responsible for administering the treatment. Or, if preferred, the Lice Sisters are available to treat your child(ren)—for a fee. The camper's head must be nit free to return to camp.
FOOD ALLERGIES
Our goal is to provide a safe and healthy environment for every camper. Increasing numbers of children have food allergies and we will gladly work with families to provide alternatives. If, however, your camper has an airborne food allergy, regrettably, Camp Maas is not the right place for them.
Tamarack Camps programs are not nut free; we are nut sensitive. We do not cook with any nut products, including oils, or offer snacks containing nuts. However, we do provide pre-made peanut butter sandwiches, available at every meal, from one specific location.
All staff members are trained in how to recognize allergic reactions and taught when and how to use Epi-Pens. The counselors review the allergy plan for your camper with the clinic. The counselor or camper will carry an Epi-Pen. In addition, Epi-Pens are strategically placed throughout camp, including the dining hall, specialty areas, and villages. 
We cannot guarantee: 
Everyone will follow the above guidelines.

There will not be "food fights" at your camper's meal.

Campers eating peanut butter will not touch each other or objects.
The Special Diet Form can be found here.
PARENT/GUARDIAN NOTIFICATIONS 
You will be contacted by a clinic staff member if: 
Your camper has a fever,

 

Your camper has a positive Covid-19 or strep test,

 

Your camper needs to be placed on antibiotics,

 

We need to take your camper out of camp for medical reasons such as x-rays or an ER visit,

 

Your camper received an immobilizer such as a sling, brace, etc,

 

Your camper needs to spend the night in the clinic

 
Parents will NOT be notified if their camper receives treatment by the staff for cuts, colds, insect bites, stomach viruses, headaches, rashes, sore throat, etc.
MEDICATIONS 
This year, we will continue to partner with AMAC Pharmacy which provides safe, prepackaged medications to camp.
Medications forms and prescriptions are due June 1 for Session 1, and June 15 for Session 2. Any past-due prescriptions will be charged a $30 late fee.
All Tamarack Camps participants (Camp Maas, Teen Travel Trips, Outposts, Israel, and TLV) are required to use AMAC Pharmacy services to obtain all medications that will be administered during a summer program. This includes over-the-counter medications that are taken routinely or as needed, excluding medications such as Tylenol and Ibuprofen. Tamarack Camps will not accept or administer gummy medications/vitamins; in the heat and humidity, they melt and stick together. Please also avoid liquid medications when possible, as they spill/get messy.
Complete the form on CampBrain and click that AMAC will be providing medications. If the medication is a prescription, you must have your doctor electronically prescribe the prescription to AMAC Pharmacy by June 1 to have it filled in time for camp. If the medication is an over-the-counter medication, AMAC Pharmacy will automatically package that medication based on what is entered by the parent on the form. There is a $10 fee for packaging in addition to a co-pay required by your insurance. 
If your prescription is not able to be ordered through AMAC Pharmacy due to extenuating circumstances, please contact the medical team to discuss.
Those choosing not to use the pre-packaged medication option for any medications that CAN be filled by AMAC will be assessed a $200 processing fee. 
CHIEF EXECUTIVE OFFICER – Lee Trepeck
CHIEF MEDICAL OFFICER – Dr. Stefanie Aronow
CAMP DIRECTOR – Carly Weinstock
ASSOCIATE DIRECTOR – Becca Fishman
DIRECTOR OF HEALTH – Jen Feinberg
PROGRAM COORDINATOR – Lauren Vidak
TEEN ISRAEL COORDINATOR – Zack Goldman
NEW CAMPER LIAISON – Helayne Shaw
HEAD OF BRIGHTON SIDE – Hallie Steckler
HEAD OF MID SIDE – Laura Charnas
HEAD OF SENIOR SIDE – Craig Charnas
DIRECTOR OF MENTAL HEALTH & SPECIAL NEEDS – Danielle Tagai
SENIOR SOCIAL WORKER – Rick Barinbaum
BRIGHTON SIDE SOCIAL WORKER - Jacquelyn Bell
MID SIDE SOCIAL WORKER – Marni Alekman
SENIOR SIDE SOCIAL WORKER – Sara Weinfeld
DIRECTOR OF JEWISH LIFE & LEARNING – Rabbi Ben Shalva
PROPERTY MANAGER – Scott Bahr
REGISTRAR – Jeanette Levene
ADMINISTRATIVE COORDINATOR – Rachel Pitt
FARM MANAGER – Alex Rosenberg
SUPERVISORS 
Every village has a supervisor who coordinates village activities and provides direction and guidance to the counselors. The supervisors are older, more experienced staff members, who over the years, have proven themselves as camp leaders. Supervisors arrive at camp two weeks early for highly-focused training, facilitated by a variety of professionals. Our training, combined with each supervisor's camper expertise, creates a perfect balance of youthful excitement and skilled caregiving. 
COUNSELORS 
Your child(ren)'s counselors are high school graduates/college students, often with a specific experience related to children. Our staff report to camp two weeks early for intensive training, facilitated by our senior staff members, supervisors, and other professionals – including parents from our community. The ratio of village staff to campers is approximately 1:5; however, when taking into account that specialists also live in the villages, the staff-to-camper ratio is often less than 1:5. 
AT CAMP
During camp, our staff members make every effort to identify and return any labeled lost and found items to your child(ren). Also, prior to returning home, items are displayed at degel (flag pole), which provides your child(ren) an opportunity to find items that may have been lost throughout the session.
COLLECTING LOST AND FOUND AFTER CAMP
Once camp ends, lost and found items are delivered to our city office (Max M. Fisher Federation Building, 6735 Telegraph Rd, Bloomfield Hills, MI), and will be available on the following dates:
Session 1 Mini and Session 1 Campers
Wednesday, July 19 and Thursday, July 20

 

8 am – 5 pm

 

Conference Room A

 
 Session 2 Mini, Session 2, and 6-week Campers
Wednesday, August 16 and Thursday, August 17

 

8 am – 5 pm

 

Conference Room A
Please allow yourself ample time to look through the Lost and Found items. Unclaimed items after the second lost and found day will be donated to charity.